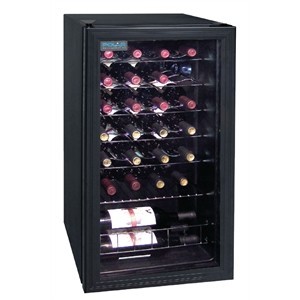 Welcome to CE Online Ltd's exclusive collection of Wine Cooler Fridges! As wine enthusiasts ourselves, we understand the importance of preserving the integrity of your prized wine collection. In this specialized category, we present an exquisite range of wine cooler fridges designed to provide the perfect storage and aging environment for your favorite vintages.
Our curated selection features wine coolers of various sizes and capacities, ensuring there's a perfect fit for every connoisseur's collection, whether you're a passionate collector, a budding wine enthusiast, or a professional sommelier. From sleek and compact models ideal for smaller spaces to larger, built-in wine coolers that seamlessly integrate into your kitchen or bar area, our collection caters to diverse needs and preferences.
Uncompromising on quality, our wine cooler fridges are crafted with precision, utilizing state-of-the-art cooling technology to maintain consistent temperature and humidity levels. This ensures your wines age gracefully, preserving their flavor, aroma, and complexity. With customizable features, such as adjustable shelving and UV-resistant glass doors, our wine coolers provide a tailored storage solution to accommodate various bottle sizes and protect your collection from harmful light exposure.
Elevate your wine storage experience with CE Online Ltd's Wine Cooler Fridges. Discover the perfect balance of form and function, adding a touch of elegance to your space while safeguarding your most cherished wines. Explore our collection now and take the first step towards enhancing your wine journey!