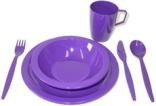 Why choose Polycarbonate Tableware from Harfield?
Harfield is a long established family-run business with over 50 years experience.
In that time, Harfield have grown to be the UK's leaders for manuafcturing polycarbonate tableware. They have also weathered at least four recessions in that time, proving to be a successfull British business with a winning product.

Quality of product, value for money, 100% recyclable materials and innovative product development means that you are sourcing the very best in polycarbonate tableware.
Harfield Polycarbonate Tableware has a very exciting new Patterned Range and an innovative Antibacterial range to add to their existing portfolio.

Designed with the caterer in mind, there is a polycarbonate plate, bowl, beaker, tumbler, jug, meal tray, serving platter, cup, tray and meal tray suitable for any application. Just about every caterer should consider polycarbonate tableware; school caterers, outdoor activity centres and outdoor pursuit centres, nursery school caterers and specialist school caterers, caterers for girlguide and brownie groups, the scout, cub and beaver movements and not to forget hospital catering, prison catering and other institutions.

Why should we all choose Harfield Polycarbonate Tableware?
Polycarbonate is a superior quality plastic material with high impact strength, toughness, heat resistance and excellent dimensional colour stability.
Harfield polycarbonate is safe, light, durable and meets the EC directive 2002/72 for food contact approved plastics.
Polycarbonate tableware is safe for children as it will not shatter or splinter. Melamine may shatter into sharp pieces and become a health and safety hazard. When melamine chips it will become unhygenic as food and bacteris etc. can seep into the porous material through the chip and will be harboured in the product..
Polycarboante tableware is stain resistant, vitually unbreakable, dishwasher safe, 100% recyclable, available in a wide range of colours and patterns, and is yout greener tableware solution.
Harfield polycarbonate tableware helps reduce your carbon foortprint and save you money; 100% recyclable, made in the UK, Lower replacement costs and less waste.
Harfield polycarbonate tableware can play an important role in your carbon management programme.