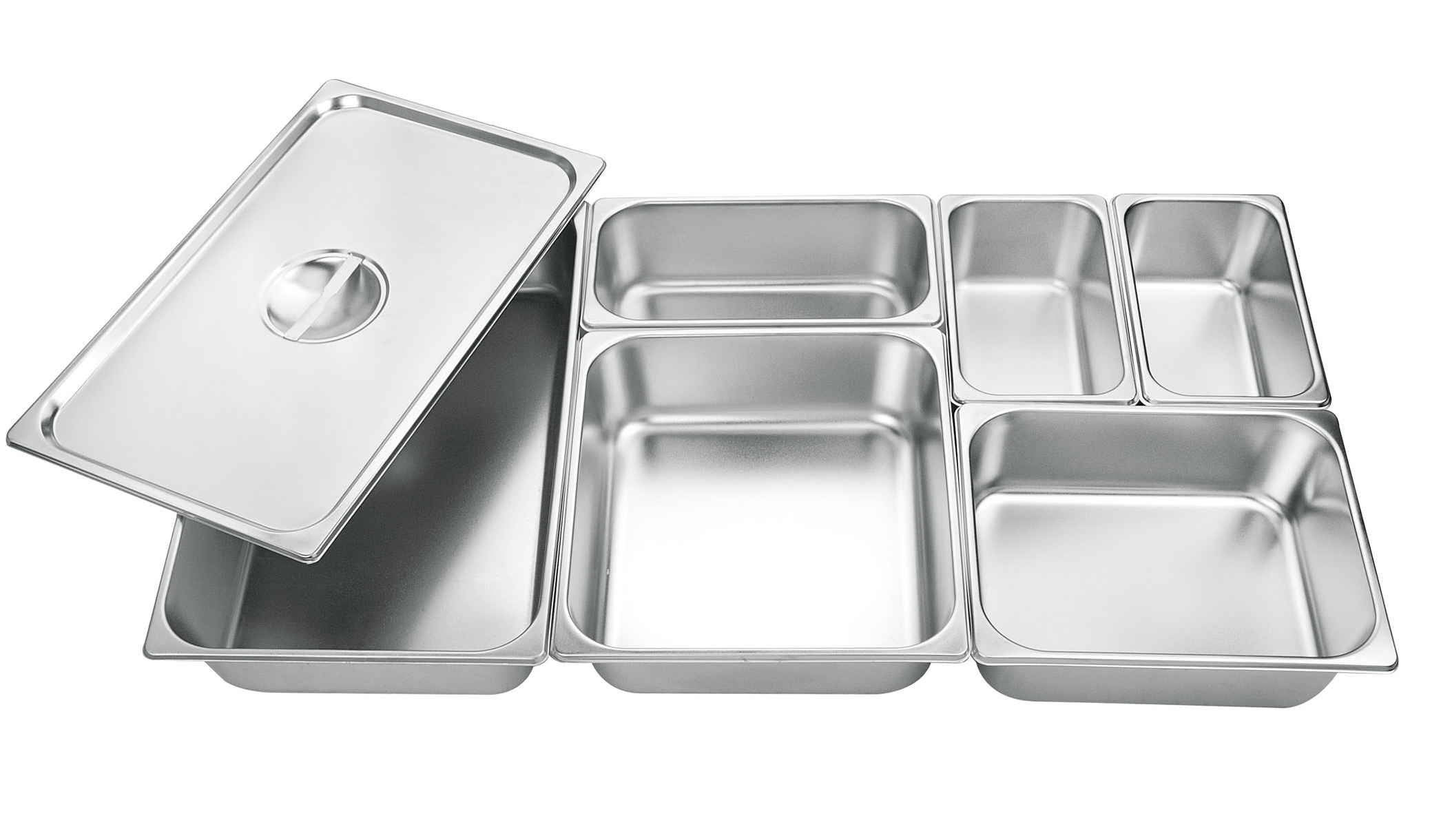 Buyer's Guide To Buying The Right Gastronorm Pan..
This buyer's guide contains useful advice for buying gastronorm containers and lids, and includes a handy reference guide for sizing...
The standardisation of gastronorms gives a uniform sizing structure to maximise capacity efficiency. It ensures maximium use of oven or fridge space by using containers that are compatible in size with the applicance capacity.
The standard gastronorm depths are 10mm, 20mm, 40mm, 65mm, 100mm, 150mm and 200mm and the following dimensions:
1/9 - 108 x 176mm
1/6 - 176 x 162mm
1/4 - 265 x 163mm (quarter)
1/3 - 325 x 176mm (third)
1/2 - 325 x 265mm (half)
1/1 - 530 x 325mm (full)
2/1 - 650 x 530mm (double)
2/3 - 354 x 325mm
2/4 - 530 x 162mm

---


Materials
Stainless Steel
The most common material used for gastronorm pans is stainless steel due to it's versatility. It provides good heat retention for hot foods and is very strong. This makes it suitable for a wide range of temperatures from oven cooking down to Blast Chilling.
Stainless steel containers always look smart making them perfect for Buffet Displays or Bain Maries.
The Sunnex Stainless Steel Gastronorm Pans are our best sellers. Known for their excellent quality and versatility. They are made out of 18/8 Stainless steel to BS631-1 specification. They can be used in bain maries, chafing dishes, heated display units and much more.


The silicone 'flexipan' gastronorm pans have highly innovative qualities - you can use them to - Cook / Chill / Freeze / Oven / Microwave / Serve; a truly versatile product!
Click here to see all of our ceramic, silicone & polycarbonate gastronorm pans
Any questions - or if you don't see what you are looking for - give us a call on 01885 498350