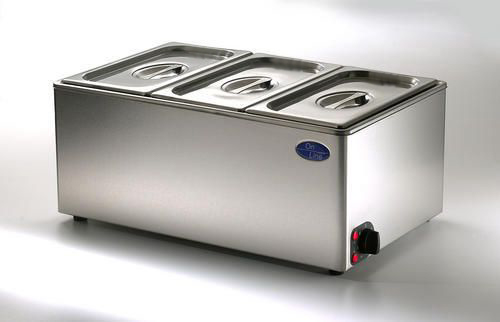 The CE Online Bain Marie is made using the highest quality components, and 100% British made. Our Bain Marie knocks all the cheap imports out of the water! Better still, we still beat most of their prices...Available without gastronorms, with 1 x 1/1GN pans, 2 x Half GN pans or 3 x Third GN pans with lids from just £89 ex vat...It is perfect for holding sauces, soups, gravy and pre-cooked foods at serving temperature.
Adjustable heat control gives added versatility - Wet or dry heat
Removable wet well for easy cleaning - Stainless Steel construction
For full 1/1GN pans - Dimensions: 550w x 350d x 230h mm (pans 100mm deep)
750watts simmerstat, 13 amps - 1 year parts and labour warranty
Or give us a ring on 01885 498350 to redeem you £5 off for collecting.