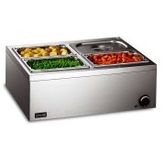 Increase efficiency in the kitchen with our selection of electric bain maries. We have a multitude of electric bain marie food warmers for catering businesses of all shapes and sizes, so you're sure to find an option that suits your needs. They distribute heat evenly throughout your dishes, resulting in a perfect finish.
We sell a range of bain maries including dry and wet heat models. With wet heat units, you can add water to the unit which helps maintain the moisture content of the food and prevents it from drying out.
We sell our very own bain marie, manufactured in the UK solely for CE Online - Shop HERE
These bain maries accept standard gastronorm pans so you can configure the internal pots to suit your needs.